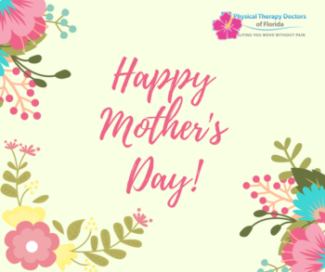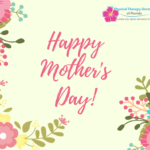 We want to wish all mothers a Happy Mother's Day!  At Physical Therapy Doctors of Florida we keep the interests and concerns of mothers of all ages in mind year-round.  In honor of Mother's Day, we'd like to remind our patients of how we can address any issues with women's health in Bradenton, FL that you might have, especially if you happen to be a new mother.
Becoming a new mom
Being pregnant and becoming a new mother certainly comes with its share of changes and possible difficulties.  A common problem that many women experience during pregnancy is back or neck pain that results from carrying around the extra body weight.  This pain usually subsides within a few weeks after the baby has been born, but it can often return as a result of repetitive lifting and carrying your infant around.  Although this may not be much weight in the first few months, it's an action that's performed on a regular basis, and eventually your baby will grow and place even more added weight on your spine.  Over time, this repetitive stress on the body can go on to cause spinal pain.
Preventing spinal pain
One of the most effective ways to reduce your chances of developing back or neck pain after giving birth is to ensure you're using proper technique when lifting your child.  We recommend the following tips:
To pick up your child from the floor, bend at the knees—keeping your back straight—squat down, tighten your stomach muscles and lift with your legs
Bring your child close to your chest before lifting and don't outstretch your arms
Avoid twisting your body when holding your child
Another way to prevent spinal pain is to perform strengthening and stretching exercises for the hips, back and core muscles. Keeping these areas flexible and strong will better prepare your body for the load of carrying your baby on a regular basis.  We strongly advise exercise for this purpose and also to help new mothers lose the dreaded "baby weight" that is often unavoidable.  Be sure to speak with your doctor before starting up any exercise again, but most mothers can get active within a week or so after giving birth.  As experts in women's health in Boston, we can assist with the following:
Our physical therapists can offer general guidance or create a specific program to get you back into your favorite physical activities
We recommend a combination of aerobic activities like brisk walking, biking or even jogging, as well as weight training (you can even use your baby!)
When exercising, be sure to never overdo it and progress gradually, drink lots of fluids to stay hydrated at all times, wear a supportive bra and stop if you feel pain
Our services for women's health in Bradenton don't end with new mothers.  We can also offer assistance to all mothers trying to get active, no matter their physical condition or age.  For aging mothers, staying in optimal shape can become difficult.  As we age, our muscles become shorter and lose their elasticity, and the structure of our bones also changes.  Together, this can cause pain and reduce flexibility, which will make it a challenge to move normally and keep physically active.  This is why we encourage older mothers to stretch on a regular basis to slow down or even stop this loss of flexibility:
Try to stretch 2-3 days per week to maintain your flexibility, and 4-5 days per week to improve it
Try to stretch out all areas of your body, and alternate on different days
Don't bounce or hold your breath while stretching, and remember that the stretch should be gentle and not cause you any pain
Our physical therapists can in this process by developing a personalized stretching program to help you get and stay limber
As a mother, it's your natural tendency to put your children first and ensure that they are taken care of.  At Physical Therapy Doctors of Florida, it's time to let us help you with any concerns with women's health in Bradenton, FL you may have and return the favor.  Contact us at 941-264-1414 to schedule an appointment, or click here for some additional stretches.